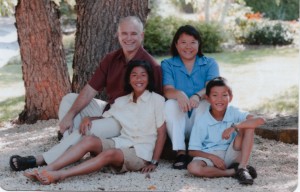 Joanne (Kao) Beckman grew up in River Falls, Wisconsin. Raised in a happy but agnostic home, she became a Christian in 1978 at age fifteen. She studied economics at Carleton College, public policy at the University of Michigan, theology at Fuller Theological Seminary, and religious history at Duke University. Despite twenty-four years of excellent and outrageously expensive education, Joanne still cannot sing the Stars Spangled Banner from start to finish, locate Uzbekistan on a map, color within the lines, or identify a single constellation in the sky. (She does not believe there are any actual constellations in the sky.)
Joanne is a teacher, writer, and editor, and has served in church and lay ministries for nearly three decades. She is an experienced public speaker, with a passion for bringing others into a fuller knowledge of the transforming love of God. She has published articles on religion, theology, and church history. Groceries on a Saturday Morning: Confessions from Real-Life Christianity is her first collection of personal essays, however, sharing experiences and reflections from her own transforming (and always humbling) encounters with God.
Joanne is married to Paul Beckman, an ordained minister and practicing attorney-at-law. They live with their children, Annie and Ben, in Ann Arbor, Michigan.